This 1972 Ford Capri Has Legendary Status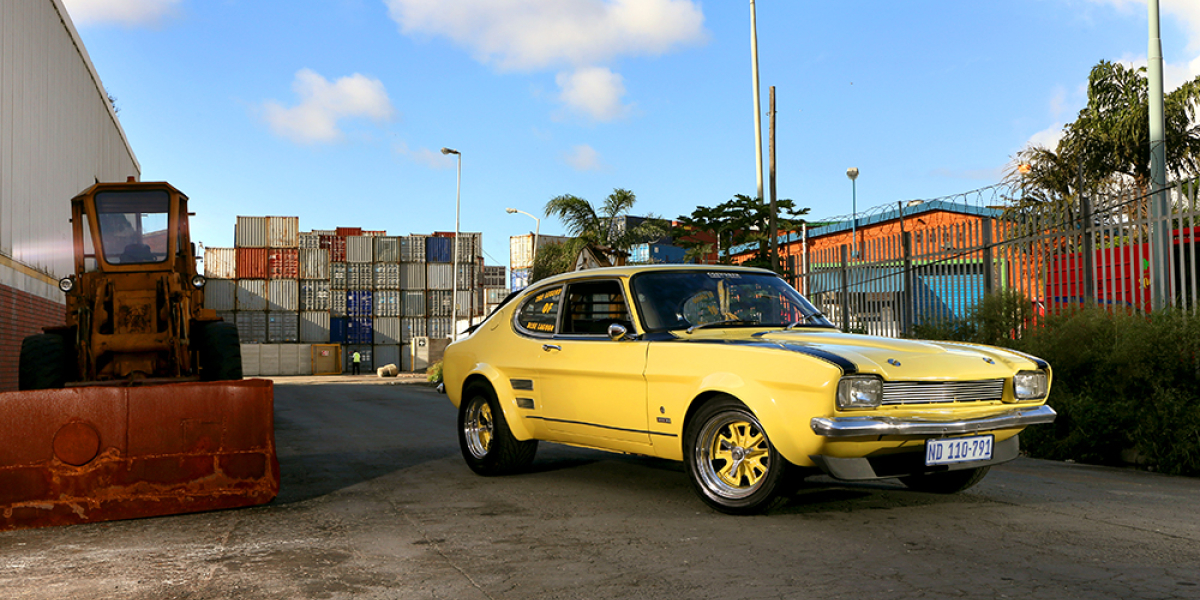 I remember seeing this exact same 1972 Ford Capri in those days at Lugz and the fervent ooohs and aaahs that followed from the approving critics.
As I headed home on the M4 beach road along Durbans newly revamped promenade after this shoot, I felt a sudden wave of nostalgia sweep over me and couldnt help but take a small trip down memory lane. So I turned off the M4 and headed pass Blue Lagoon (or Lugz as it is affectionately known as by the regulars) to see what was happening as one would normally do on a Saturday afternoon in Durbs.
I was reminded how Blue Lagoon was the spot to meet your friends on a Friday or Saturday night and chill out with a few dops, usually from a brown paper bag in the boot of one of our cars, before heading to the nightclub of our choice. I pulled into the now barren wasteland next to where the once-famous Coconut Grove was situated and remembered that about 10 years ago youd never be able to find a vacant parking spot there.
The municipality demolished the building a few years ago and in a way that was what killed Blue Lagoon as a popular hang-out destination. Now all that remains are a few homeless guys and hawkers trying to sell you pirated DVDs. Sad.
Back then people would line up next to the main road running through the middle of Blue Lagoon and watch as cars would go by doing burnouts.Also, some just cruising with the inhabitants of that car adopting the perfect Durban pose: windows down, low down in your seat and your arm resting outside the window. I remember seeing this exact same Ford Capri in those days at Lugz and the fervent ooohs and aaahs that followed from the approving critics.
Usually, the appearance of this Capri meant that some drag racing would ensue shortly afterwards at Quarry road around the corner. The man behind the wheel was Viva Naidoo who made a name for this car amongst the street-racing fraternity in Durban. His co-pilot was 13 year old Jayce Pillay, who would come to own this car much later on in his life. 
As an 11 year old boy, Jayce helped the first owner, a guy by the name of Farouk, to build the car and immediately fell in love with it. This Capri ignited within him a passion for cars and he knew then and there that he had petrol pumping through his veins. So, naturally he was distraught to learn that Farouk was selling it.
But, once he found out that the car was going to Viva, a guy that he looked up to as a big brother, he knew that he would still play a pivotal role in the future of the Capri. The car ran pretty much the exact same setup in those days: a V6 engine with Ford Interceptor Trip carbs with extensive modifications.
Behind the scenes youll find an amalgamation of Nissan Skyline valves, Mercedes pistons, Ford Sapphire brakes, a BMW brake booster, a Toyota Cressida gearbox and an Isuzu diff. Quite a mix, but it works nonetheless, and works well. Furthermore, youll find a 300deg camshaft, restroked crank, ACL race bearings, bigger injectors and a beefier prop shaft to handle more torque.
The original suspension is still at play, but its been firmed up thanks to the addition of polyurethane bushes. Then, a few years later, Viva decided to strip the Capri for a respray in Ford motorsport blue, but he never got around to assembling it again.
The car stood parked off for 15 years and even though Viva was offered good money by prospective buyers, he could never bring himself to part with the once legendary Ford Capri. That was until one day Jayce, the man who helped build the car as a young boy, asked Viva if he could buy it. Knowing the sentimental attachment Jayce had to the car growing up, Viva agreed to let him have it, like a family heirloom being passed down to the next generation. His only condition was that Jayce bring the Capri back to the status that it once held. And so the rebirth of the Capri began.
Jayce knew that the essence of the car was the Basil Green paintwork. So, he sent the car to RS Motorsport to change the colour back from blue to yellow. While that was being done he started reviving the engine with the help of Randy Bahrat from RS Dragstarz and Morgan Ramadu from MGM Engineering who carried out all the engineering work. And now, almost two decades later, the Capri is back and stronger than ever!
Jayce says the passion that he had for the car as a young boy has been instilled in his daughter, Danielle, who will eventually own the Capri herself one day and that there are lots of people that still remember the car whenever he takes it out to Blue Lagoon or Quarry road. Im sure the mere sight of this Capri evokes in them the same feeling of nostalgia that it did in me.
TECH SHEET:


OWNER: Jayce Pillay


LOCATION: Durban


MAKE: 1972 Ford Capri


BUILDER: RS Dragstarz


ENGINE: V6, Flowed and ported head, 300 degree Redline camshaft, Wildcat 57mm exhaust, Ford Interceptor carbs


TRANNY: Toyota Cressida, copper race clutch, Isuzu M75 diff


SUSPENSION: Original with polyurethane bushes


WHEELS: Cobra style custom wheels (8.5J front and 10J rear)


BRAKES: Upgrades discs all round


INTERIOR: Leather interior with yellow stitch by Ashveer custom interiors


COLOUR: Basil Green Yellow


PAINTER: RS Motorsport


EXTERIOR: Flared arches